---
Tours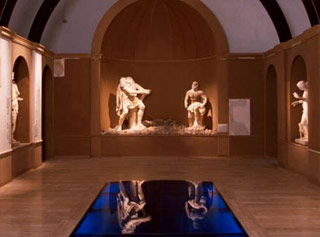 26

Aug 2015
Archaeological Museum of Campi Flegrei
The Archaeological Museum of Campi Flegrei is located in the Aragonese Castle of Baia. It provides the gradual exposure of the most significant finds in the archaeological sites of the Phlegrean area. The halls so far triggered concern: the Shrine of the Augustals Miseno; plaster casts found at the Terme di Baia (remains of work performed by local sculptors committed to make copies of Greek works); the Nymphaeum of Punta Epitaph in Baia.
In particular, they deserve to be seen reconstructions of the Shrine of the Augustals and the Nymphaeum of Punta Epitaph. The first hall, located in the so-called Tenaglia Castle tower, houses the reconstruction of the façade of the Shrine of Miseno; it is formed by a portico behind which rise statues originally placed in the internal cell to the temple itself.
The Ninfeo was built by Emperor Claudius and today is sunk to a depth of 7 meters below sea level because of bradyseism. It shows a rectangular plan, closed by an apse which was re-enacted a scene of the Odyssey; the niches of the long walls were adorned with statues inspired by Hellenistic prototypes of the second century BC, only some of which have been recovered.
Minuti a piedi 60 minuti
22 min
Distanza dall'hotel 11 Km